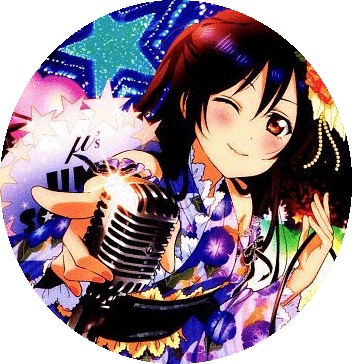 Magic Name Here:
Siren's Heart   
Element Here:
No Element   
Primary/Secondary:
Primary   
Character Specific/Non-Character Specific
[Others can use it if they want to]   
Offensive/Defensive/Supportive/Mixed:
Offensive - Supplementary - Defensive
Sirens Heart is a powerful magic that allows a vast array of effects. This magic allows the user to cast spells through the use of music and rythm. Capable of being channelled through musical instruments or crated through rythms made from the voice or by patting the body, essentially being able to be cast from any object/item/person/that can make a sound. It's main capabilities allow the user to buff up themselves and others around them or to caus debuffs within enemies as well as causing other effect. The magics special capabilities allows it to transform sound in to colour, this means Trish is capable of concentrating this colourfoul concentrated form of sound in to physical attacks. When debuffing/buffiing the music is presented in musical notes, its physical appearance appearing in a manner similiar to solid script.   
D Rank- 2 perks
   C Rank- 3 perks
   B Rank - 4 perks
   A Rank - 5 perks
   S Rank - 6 perks
   L Rank - 7 perks
   X Rank - 9 perks
   Z Rank - 11 perks
   
*Is able to effect a large amount of people due to the majority being AOE
*Vast amount of buff/debuff and special effect spells
*Enhanced synesthesia allows the user to have effect over those whom are deaf.
*Requires the ability to use music, if gagged and bound this magic is useless.
*Due to AOE spells, allies may be effected by status spells and foes may accidentally gain buffs.
*Due to her reluctance to sing generally unless in dire situations she requires some form of instrument.
*Those who are deaf are unable to be effected by spells that do not/are not enhanced via Enhanced synesthesia
*Deaf and Blind people are 100% immune to this magic.
D-Rank:

Sirens Burst:

Name: Sirens Burst
Rank: D-rank
Type: Offensive
Range: eight meters
Appearance: By playing some form of music from either the body, the mouth or an instrument, the user releases a burst of sound that is concentrated together to do physical damage. This burst moves with a green tinge and releases a gentle hum as it flies. It is the size of a basketball [circumfrance of 29.5 inches].
Description: A simple damaging spell in which the concentrated ball of sound strikes the opponent much like a powerful burst of air to do physical damage. This does blunt force damage at .50 flying at a total speed of 2m/s with an instant use and cooldown of 2 posts. Costs the Standard D-rank [2.5 mana]

Lullabye Medley:


Name: Lullabye's Medley
Rank: D-rank
Type: Supp
Range: 15M
Appearance: By utilizing music of any shape or form, the use releases a flurry of neon green musical notes, they appear as quavers.
Description: By playing the required melody/beginning the required melody. The female releases a flurry of quavers in to the area that dance around in front of the user up to 15 meters. the quavers are neon green though are transparent enough to not hinder vision. Anyone caught within the effect will instantly hear the music and pass out. This use of this spell lasts for two posts with a four post cooldown and the opponent/targets/allies whom are caught within the spell will wake up one post after the spell has ended. Costs the Standard D-rank [2.5 mana] expands to the full size at 2m/s. Only those of the same rank or lower than the caster themselves are effected by this spell.  

Vertigo Melody:


Name: Vertigo Melody
Rank: D
Type: Supplementary
Range: 15m AOE
Appearance: A sphericle burst of sound seems to emit either from the instrument that the user is utilizing,or the part in which the sound is coming from such as the voice or body. This sphericle wave is slightly hard to spot as it seems to present itself more as a slight heat wave than something associated with sound.
Description: After releasing a sound/melody from either herself, a body part or an instrument, a sphericle form of sound would erupt utilizing Tracey as the epicenter, anyone whether ally or foe caught within the sphere of sound will be subjected to the effects of Vertigo created from the enhancement of magic through the sound wave. The soundwave will alter the frequency heard by those caught within and force them to become rather dizzy, this will in turn halt concentration and create a somewhat fog around the mind of those effected, as with the effects of vertigo the stomach will churn and there can be a high possibility of one throwing up. It does not have any full damaging effects nor a proper buff or debuff. The spell may last for up to three posts though can be cancelled instantly [this does not mean the effects disappear, the effects last for additional post extra when the spell ends, example, if used instantly, the vertigo effect will last for two posts]. The cooldown is also dependant on how long the spell is used for, if used instantly the cooldown will be two posts, if used for two posts the cooldown four posts and if used for three posts the cooldown will be 6 posts. Costs the Standard D-rank [2.5 mana] Expands to full size at 2m/s. Only those who are the same rank as the caster or lower are effected by this spell. The effects of Vertigo may only effect someone for a total of two posts
C-Rank:

Sirens Cry:


Name: Sirens Cry
Rank: C-rank
Type: Supplementary/AOE/damage
Range: 8 meter AOE with a 10 meter knock back effect
Appearance: The user releases sound/music through any shape or form that her magic allows. By doing o the user releases a sound that is awful and loud creating a burst of sound like energy
Description: releasing energy that erupts from the area of origin spanning an 8 meter area of effect. This then forces a knockback effect that pushes everyone from the vacinity also doing a minor amount of damage from the blunt force allowing .25 damage to be done.  Costs the Standard C-rank [5 mana]. Speed is 5m/s 

Musical Scream:


Name: Musical Scream
Rank: C-rank
Type: Supplementary/Offense
Range: 20 Meters
Appearance: The user releases sound/music through any shape or form that her magic allows. A single flying musical note will shoot forward, the colour of this note is a dark purple.
Description: Upon strumming/playing/singing using any form of music that her magic allows, the user releases this spell, though when she releases the music, no sound seems to come from the instrument/area used to create the music. Instead the musical note that shoots forth is formed. Upon contact with any part of the opponent whether the foot or the ear directly, the same effect will happen. The opponent will hear the music amplified by 10 as if they are wearing headphones and the music has been turned up beyond full. This not only causes deafness and disorientation [1 post of stunning] but also causes a full point of internal damage. [The downside is other songs that involve needing the target to hear them are inneffective for 1 additional post after the stunning meaning the target is deafened for two posts] Generally blood will be seen dripping from the ears after this spell is used. It has an instant duration and a three post cooldown moves at 5m/s. Costs the Standard C-rank [5 Mana] speed is 5m/s
B-Rank:

Enhanced synesthesia:


Name: Seeing Sound
Rank: B-rank
Type: Damage/Supp
Range: 20 meter range
Appearance: One of the most powerful spells in the Sirens arsenal, it is known as Enhanced synesthesia or by its other term, Sirens Song. It grants the ability of the user to bring forth and condence sound to the point it becomes visible, allowing the deaf to hear them. Yet this added power is condenced further through the use of musical powers. Alas this spell can only be used through instruments that have a bow or when the sound of the users vocals are funnled by the hands through the air. This presents itself in a slicing physical slash much like a crescent wave of ever changing colour. Soaring it releases a sound much like that of the little mermaid prior to Ursula stealing her voice.
Description This is a slashing power made from condensed sound waves. By using her voice and funneling this magical spell through her hands or through the use of a bow via violin or chello, the user creates a slashing motion releasing a rainbow of colour in a crescent wave that is capable of doing 1.5 damage, upon contact with an opponent, the attack emits a high note that also causes a single post of stun. It has an instant duration and a four post cooldown moves at 8m/s Costs the Standard B-rank [7 mana]